Okay - so I think I've been ignoring my male friends long enough... In the fashion department I mean! ;) With spring right around the corner there are many special occasions (ie - your sister's best friend's cousin's wedding?) and its time you boys started rockin' out the bow tie.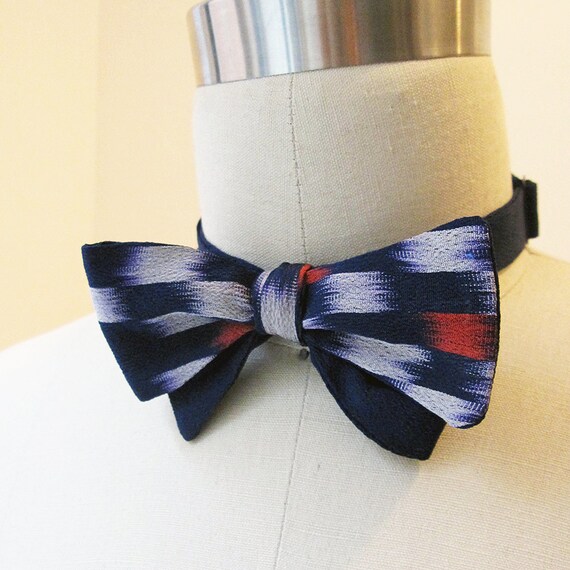 Simone's Rose ikat bow tie - made from vintage / upcycled kimono fabrics - $42
According to good old
Wikipedia
the bow tie originated among Croatian mercenaries during the Prussian wars of the 17th century. The Croat mercenaries used a scarf around the neck to hold together the opening of their shirts. A style which caught on in France - and boom that's how it started developing into the bow tie we know today.
Now - the key to not looking geeky in a bow tie is to wear that business with c-o-n-f-i-d-e-n-c-e!
"She said it.... Wear that shits with confidence!"








AHEM - but (butt) please also wear pants.. okay? I mean - you should only take confidence so far! Also - try to pick out a bow tie with style... 'wide and 80's looking'? I'm not a fan but to each their own! There are SO many choices out there now - you're bound to find something that suits your taste. The next step is to learn how to tie it yourself - this is a must and takes a bit of practice but its a skill worth having so go for it!
Now that you've learned the skills and a super brief history of this fantastic accessory - you're ready for the new world of bow ties! Go ahead - check out
my shop
for a selection of bow ties made from upcycled kimono textiles, silks and all around gorgeous fabrics. Don't forget - you can always
make a request
for a customized bow tie or multiples for weddings and special occasions.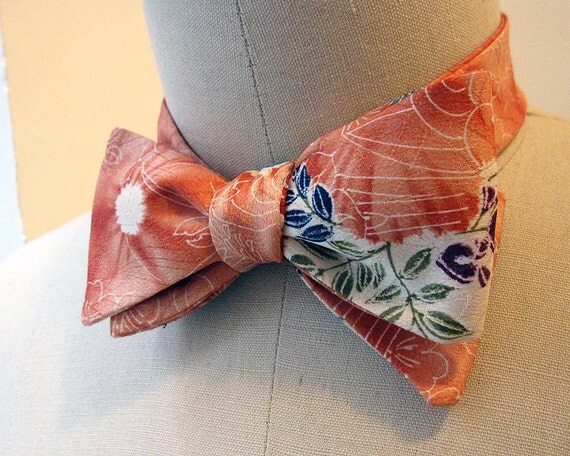 Simone's Rose Apricot print kimono silk bow tie - one of a kind! $42
P.S. If a guy showed up on a date wearing a bow tie... I would be thoroughly impressed. Hmmm.. maybe I should show up wearing a bow tie!
Much love, Michelle xo